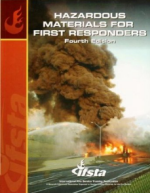 IFSTA Hazardous Materials for First Responders
4th Edition

The 4th edition of Hazardous Materials for First Responders is written for emergency first responders who are mandated by law and/or called upon by necessity to prepare for and respond to hazardous materials and weapons of mass destruction (WMD) incidents.

The purpose of this book is to provide first responders with the information they need to take appropriate initial actions at WMD incidents and hazardous materials spills or releases. Learning objectives are provided at the beginning of each chapter to assist the reader in focusing on the appropriate topic and knowledge and review questions are located at the end of each chapter. Skill sheets are provided at the end of many chapters to provide step-by-step instructions on how to perform crucial skills and activities.